Sonos for Business Restaurants, Retail, and Small Businesses
Looking to fill your workplace or business with an endless choice of music? The Sonos system offers all the music on earth as well as a range of products to fit any business.
SONOS MAKES IT EASY TO FILL YOUR WORKPLACE WITH MUSIC
It's a Monday morning setting - quirky little coffee shop, sipping a double espresso to give that extra kick that's mandatory for the longest day of the week. In the corner of the room, a Sonos One SL and its Bigger brother, the Sonos PLAY:5, collaborating seamlessly to make background music effortless.
Without stating the obvious, Sonos and SMEs go hand in hand, and whether it's a coffee shop, salon, retail shop, office or restaurant, Sonos speakers can provide your customers or staff with the background music to inspire, relax or motivate.
"65% of business owners say background music increases staff productivity"
SONOS IS COST EFFECTIVE AND SIMPLE TO SET-UP
The beauty of the Sonos system is the simplicity of set-up, and the flexibility to add one speaker to a small coffee shop or 20 speakers that provide the music for a large office or retail space.
Choosing a Sonos system for your business reduces a lot of cost and hassle associated with a traditional audio system. Set-up is extremely easy and can be carried out by anyone who has connected a mobile device to a WiFi network before. It's that easy but don't take our word for it watch our setting up Sonos Video
Sonos speakers are very powerful, even "The Baby" of the family, the Sonos One SL, produces some pretty imposing sound. The Sonos Move is slightly larger and louder but is also portable, which maybe add or hinder convenience depending on your requirements.
This leaves us with the largest speaker and is by far Sonos' best-sounding smart speaker to date. The PLAY:5 is a complete powerhouse with the widest sound stage, excellent clarity, and crystal clear vocals.
Quick tip
You may want to consider including the PLAY:5 in your set up no matter how small your organisation is and here's why:
The Line-In feature
Want to connect that old CD player, Turntable or old iPod Classic to your Sonos system? The line-in input on the PLAY:5, Sonos Amp or Sonos Port makes this possible. Simply connect your device to the line-in connection on the back of the PLAY:5 and then select this option from the Sonos app.
A great feature of the Sonos system is once you have external audio device such as a CD player connected to the line-In jack on one of your Sonos smart speakers, the line-in audio is then available on any Sonos smart speaker in your system.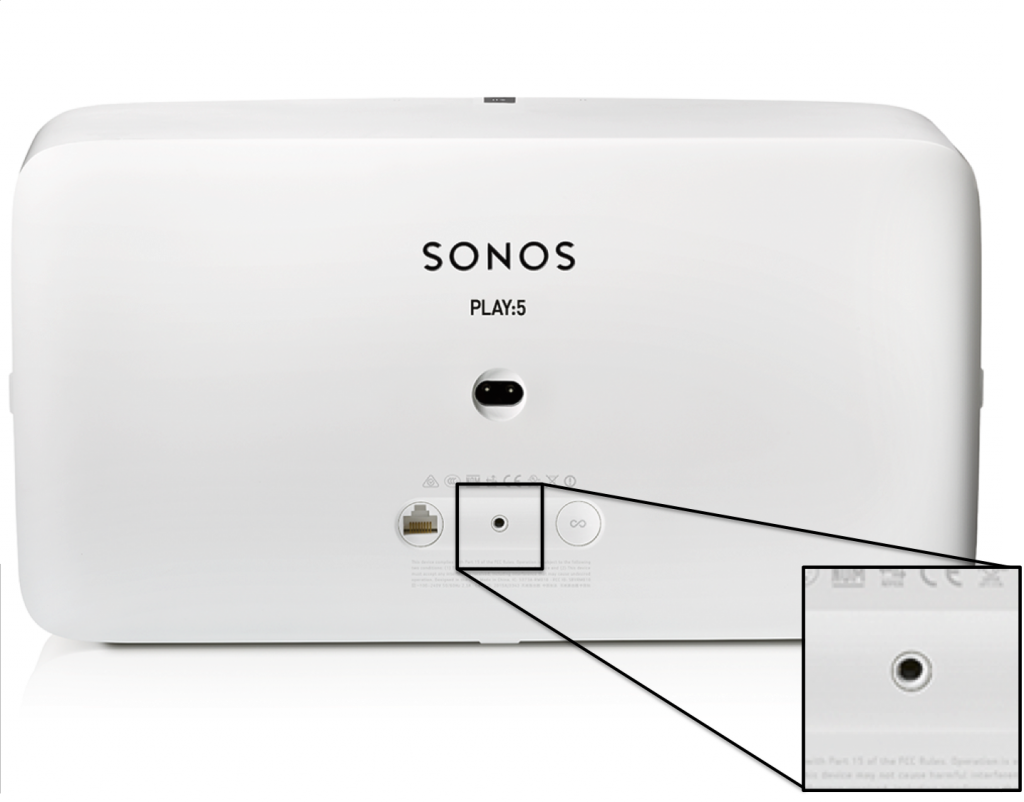 STEP ONE - CHOOSE YOUR SONOS SET UP
Small
The go-to smart speaker for your coffee shop, salon and offices should be the Sonos One SL. The One SL offers big sound from a compact form factor and with a wide range of accessories available mounting and integrating this speaker into your space is effortless.
New for 2019, the One SL features an updated modern look with the addition of AirPlay 2 should this be required. Most customers are surprised at what the One SL will do in your space, both for music quality and sound distribution.
For ambient music, it's perfect and will even go louder. There's no chance the music will disappear unless you want it to. If your room is really small, then start with one. You can always add one or two later.
Note. The Sonos One SL does not feature voice control but if this is required, simply upgrade to the standard Sonos One with Voice control.
Medium
Depending on the size and shape of your room, install 2 - 4 Sonos One SLs or Sonos Moves in your desired space. If you want a speaker for a quiet area like the toilets, desk or till, then add a One SL to the mix, and you'll be sweet.
Large
OK, here's where it gets fun and most importantly, loud. Without a doubt, you're going to want at least one PLAY:5 in your system or maybe even all PLAY:5s (see picture below). 1 - 2 PLAY:5s where the music will be loudest, and maybe be add a few Sonos One SL's to the more secluded or quiet areas where background music is necessary.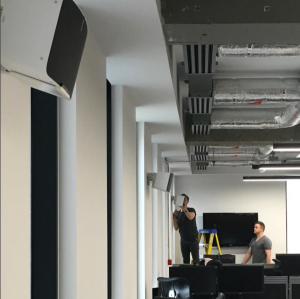 Installer Tip
A successful audio install will offer a balanced sound level throughout the whole business premises. There is nothing worse than turning up a speaker loudly so the audio reaches another part of the business only to make it uncomfortable to sit/stand right next to that speaker. Sometimes the better option, if budgets are tight, is to downsize the speaker and install more speakers to give that balanced audio throughout.
ADD A SONOS TV SPEAKER TO YOUR MEETING ROOM TV SET-UP
Not only can Sonos provide the audio for the main spaces in your business, they also offer a choice of two soundbars that can easily connect to your Meeting room display.
Connection of either a Sonos PLAYBAR or the smaller Sonos Beam is effortless with only one cable required from the Soundbar to your TV. Transform your presentations with crystal clear audio of any content shown on the TV.
When not being used as a TV speaker, Sonos Soundbars also integrate into the full Sonos ecosystem, allowing them to play music individually or be grouped with all the other Sonos speakers in your set-up.
We would recommend the Sonos Beam for the majority of meeting room set-ups or the Sonos Playbar for larger meeting room spaces. If you would like some help choosing the right Soundbar for your space, please get in touch, and one of our specialists can assist
Individual volume & Music settings for each Speaker / Room
To play all speakers at once simply press 'group' (See picture on the right). Then control the volume of each speaker from the app. This means instead of having one speaker in an area blasting really loud trying to fill the whole room, you can have multiple Sonos speakers, spread them out and have the volume at a controlled sound.
In the Smart Home Sounds office, the music is chilled whereas the warehouse tends to be a bit more upbeat (See picture below)!

STEP TWO - CONNECT YOUR SONOS SMART SPEAKERS
There are two possible ways to set up your Sonos system. Please see the options below to determine which option will work best for your business. Both options are easily selected when you start the walkthrough setup on the Sonos App.
Option 1 - WiFi
This uses your existing WiFi network to connect your Sonos speakers. This is a very quick and easy method of connection. If you are using this method in a business where customers are allowed to use the WiFi network, we would strongly recommend having a separate SSID such as a guest network for your customers to use. If your customers are allowed to connect to the same network as the Sonos system they could simply download the Sonos app and connect to your Sonos system and start altering volume and music choice.
Option 2 - Sonos Mesh (preferred for Commercial applications)
This method of connection is where you hardwire a Sonos smart speaker or Boost to your business network. Only one device needs to be wired into your router or network point to launch a reliable mesh network on a separate wireless channel.
This means that your speakers don't have to talk to the WiFi router directly, but rather can connect reliably through any nearby Sonos smart speaker. This increases the range of your Sonos system, and frees up the standard WiFi for your guests, customers or colleagues and ensures that you've got great connectivity no matter how large your business or how many WiFi devices you use.
STEP THREE - MOUNTING YOUR SONOS SET UP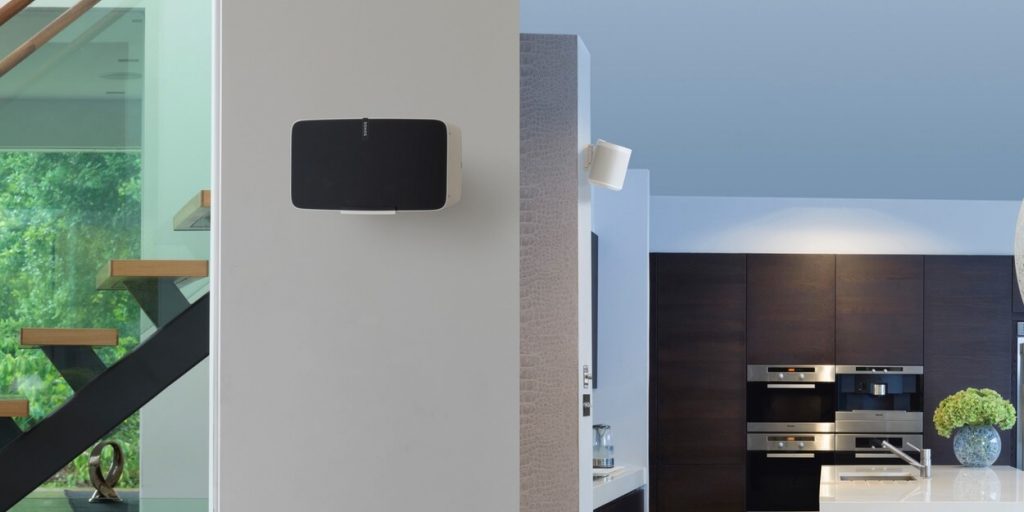 Sonos speakers can be standing on their own, on tables, desks, and shelves, however we recommend mounting them on the walls to get the best sound from your system. By doing this you achieve a wide surround sound which fills your room from corner to corner.
Mounting Sonos is extremely easy and the best way to do so is using the wide range of accessories avalible from Flexson. View the complete range of Sonos accessories 
STEP FOUR - HAVE FUN WITH IT!
The great thing about Sonos is that you can access it with any smartphone, tablet or computer through a simple push of an app. So here are a couple of ideas for how to have fun and make the musical experience for your customers unforgettable:
Sonos Jukebox - Why not have an iPad or maybe a Launch port at the coffee counter, desk or bar so your customers, staff, and colleagues can access the music, select their favourite tracks, add tracks to the Sonos queue and make their own personal playlists. How cool would that be, giving your customers their own Jukebox! You could even reward customers with incentives like a free coffee, merchandise or vouchers for the best weekly playlist.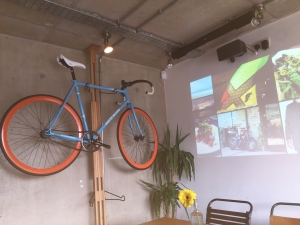 Music themed days - Mix up the days of the week with music themed days. Chuck some funk on, on Mondays to cheer up your customers, staff, colleagues and banish their weekend blues. Or maybe Dance tracks on a Friday to give people that #FridayFeeling.
But hey, we can't give away too many ideas! You can enjoy Sonos in many ways and we just want to highlight a few ideas that can be used. So back your Spotify / Apple Music / Deezer account and get started! All the music you could ever want in one app, through one system, in your business.
LET US HELP!
If you are a business looking to install a Sonos system, we offer a floor plan mark-up service where we can recommend speaker positioning, quantities required and an indication of cost. We also promise to match or beat any genuine US Sonos price.
Fill out the form below to get started or email us on help@sbcashregister.com with your floor plan and we'd be happy to help.
FAQ
Why do I need a commercial music streaming service?
Composers, musicians, and artists deserve fair compensation, especially when their music offers extra value to your business. As a business owner, you're legally responsible for paying license fees for music you play in your venue.
Can't I just use my personal music streaming subscription?
You'll still have to pay licensing fees to use music in your business. Additionally, if you want to get rid of the ads that interrupt the music, you'll need to pay for a premium subscription on most services. It's usually more cost effective to subscribe to a music streaming service for business use.
What is considered a public performance?
The Copyright Law of the United States defines a public performance of music as, "Music performed in a place open to the public or at any place where a substantial number of persons outside of a normal circle of a family and its social acquaintances is gathered."
What are Performance Rights Organizations?
BMI, ASCAP, and SESAC are known as the Performance Rights Organizations (PROs) that represent songwriters and music publishers in the United States. If you play music licensed by one of these organizations and don't have a license from them, you can potentially be held liable for copyright infringement, which can result in thousands of dollars of liability as well as costly legal fees.